Zahra creates custom cakes, cupcakes, cookies and special occasion desserts!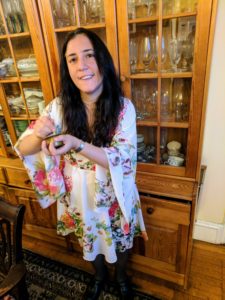 Zahra was born in Tehran, Iran, where she developed a true love for nature and baking.  In Farsi, Zahra means "bright" and it also means "flower".  In her early years, she remembers playing in her aunt Badri's garden…admiring the beauty of the flowers.  She also spent a great deal of time learning how to cook and bake with her grandmother, Farokh, which Zahra to this day pronounces Fayokh.  I will never forget her keen attention to detail and how important temperature was to her.  She would keep telling me the differences between pie and pizza dough, over and over again.  And these are words I still cherish every time I am making something special in the kitchen.
After working in Corporate America for a few years, Zahra decided to pursue her childhood passion of cooking, baking and pastry further.  In advertising, I learned how important it was to stay positive and customize everything to fit the client's needs and desires.  And then there was Y2K and a shift in the economy.  I intuitively knew it was time to find myself.
I soon enrolled at the Institute of Culinary Education's work-study program where I worked 1,300 hours in exchange for the opportunity to enroll in the culinary arts diploma program.  At ICE, Zahra tirelessly assisted others in their pursuit of higher learning.  She also received her Baking and Pastry Arts Certificate and studied abroad in the Loire Valley in France.
Zahra completed her externship at the Food Network, where she worked with the production team on Sara's Secrets and Sweet Dreams.  Upon completion of her externship, she began working in commercial kitchens.  Zahra performed cake baking and decorating under the tutelage of Madeline Carvalho Lanciani, where she honed her cookie and cake decorating skills.   It was a very exciting and validating experience to work for Chef Lanciani; as Madeline was the first woman ever to be hired as a cook at the Plaza Hotel.  Zahra is thankful for the opportunity to have such amazing mentors.
At Amy's Bread, Zahra learned the heart and soul of baking from a very sweet and special pastry chef, Molly.  Under Amy's family oriented staff, Zahra mastered the art of baking.  Here she learned through repetition.  She was able to produce tender and flaky shortcakes and made moist and decadent chocolate cakes.  It was in this environment, where Zahra felt the most encouraged to do better than ever before.  Toy was always nice…no matter what…she was so patient and comforting.  Amy's staff is loyal, because she knows people and appreciates them.
At Manhattan Youth/Downtown Community Center, Zahra spent years teaching children how to work with seasonal and nutritious ingredients to make simple and healthy meals, snacks and desserts. Her greatest accomplishment at the center was generating cookbooks covering all lessons planned and baking and decorating gingerbread houses with the kids.
At Nobu restaurant, Zahra realized the importance of "seeing the ant and the elephant at the same time" and how important it is to work neatly and efficiently.  It was such a treat to experience plating and preparing European-style desserts with a Japanese sensibility. Here I learned to master flavors and see the overlaps between sweet and savory and the aesthetics of food in a whole new way.
Under James Peterson's guidance and know how, Zahra performed recipe testing and development for the award winning cookbook author.  James Peterson is one of the most gifted human beings when it comes to the written and spoken word.  He has a remarkable ability to simplify the most complicated recipes/tasks.  He is so fearless and inventive.  I was in awe of his love of butter, all things French and still life photography.  We would have our lunch break in his gorgeous back yard/garden.  My hands will appear in his books for a lifetime and I am grateful.
At Better Being Catering Company, Zahra learned the fundamentals of entrepreneurialism and the hard work and dedication it takes to be successful.  Here she was able to develop new and inventive recipes which were well received by the fashion and entertainment industry.  Her experience here was truly invaluable such that she learned to trust her instincts and create and prosper with a new sense of confidence and courage.